Just six months ago, the first students crossed the threshold of the International Academic School "Odessa" for the first time. During this time, both schoolchildren and parents managed to make sure that their choice was correct. The popularity of the school is growing, and already in the new academic year, according to applications from those who wish, new classes will be formed. Now the recruitment of children from the 1st to the 8th grades is underway, and in order for future students and their parents to familiarize themselves with the conditions of education, an Open Day was announced at the International Academic School "Odessa".
A huge number of future students came, parents came, they want to send their children to our school, which we built with love, and put their souls into the construction and organization of the educational process. Today we have bright, spacious classrooms, two swimming pools, a school cafe, a cinema and concert hall, a temple, which is not found in any school in Ukraine. I am proud of this project. Parents were interested in many questions, but, first of all, there were questions related to Christian ethics, and it is very important that we instill love for Christianity. We show what can be done, the main thing is that there is a desire to have a team that creates everything in our city, namely the hero-city of Odessa.
- Sergey Kivalov, President and founder of the Odessa International Academic School, shared his impressions of the meeting.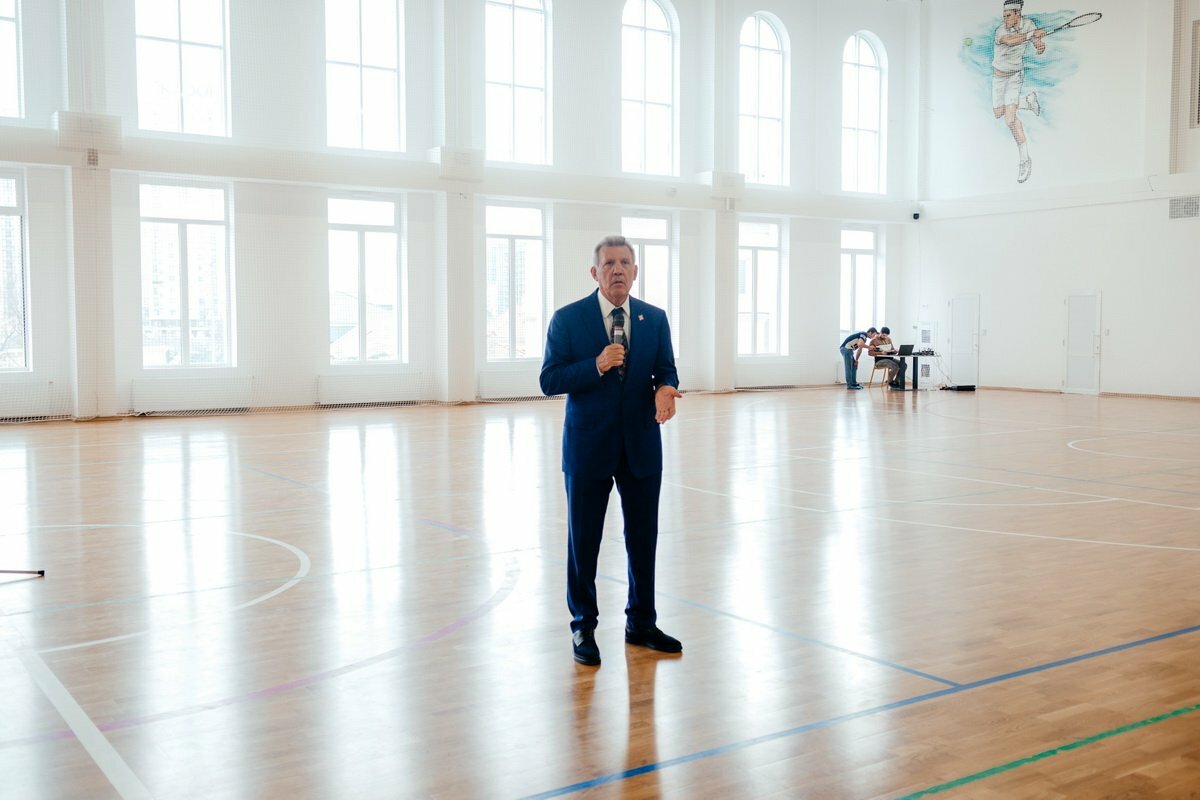 Today our school hospitably opened its doors to our future students and their parents. We are very pleased to show this extraordinary educational institution, which has no analogues in Ukraine. Our school is not only a modern and very beautiful architectural building, the school is also strong with its teachers. We have a very strong team of teachers who have the highest first category and are repeated participants in the "Teacher of the Year" competition. Such conditions, which were created here with the support of the President and founder of the school, Sergei Vasilyevich Kivalov, are not found in any other school, and a vivid confirmation is the huge number of applicants who have already signed up for the next academic year. # Nbsp; - says the school director Natalya Vernidub.
More than a hundred families - both parents and children - came to the meeting with the school administration and teachers. Everyone wanted to see with their own eyes the very School of the Future, about which they talk and write a lot. The educational institution is really impressive at first sight. It is impossible not to notice this building when driving by, and after crossing the threshold of an educational institution, it is difficult to believe that this is really a comprehensive school in which children study. Here, high technologies are involved everywhere - both a modern security system with 240 surveillance cameras, and an electronic checkpoint with individual biometric cards for admission. Wide, bright corridors lead to classrooms, which also do not look like classrooms in a regular school. Spacious rooms with a place for both play and relaxation, high ceilings, unusual bright interior design, new furniture perfectly matched to the height of students, and modern Smart Board interactive displays (87 inches) - with which it is much easier and more interesting to learn.
Note that the Ministry of Science and Education of Ukraine today only proposes to introduce moral lessons in schools - "Fundamentals of Christian Ethics", "Biblical History and Christian Ethics", and at the International Academic School "Odessa" children are already studying these disciplines as an option, at will ... Two churches were built at the school - St. Sergius of Radonezh and St. John the Theologian, where spiritual values ​​are taught to children.
This school gives the child a unique opportunity, in addition to all the basic subjects of general education, to develop spiritually. At each lesson, with great joy, the children listen to words about God, about the history of Christianity, about church holidays, about saints. Those who are younger draw on this topic of the lesson, watch videos, listen to the teacher - all these are different techniques, and we use them so that children can memorize this or that material as well as possible. For the pupils of the school, it is really both joy and consolation for parents, because a spiritually brought up child in the current difficult time of informational development is a very rare occurrence when we can endow our child with a spiritual component.
- # nbsp;
shared the rector of the Church of St. John the Evangelist, deputy director Sergei Kudarenko.
In addition, special attention is paid to the study of foreign languages, which fully justifies the name of the school as "international". Today, children here study English, German, French and optional Chinese. And from next year, Spanish and Hebrew will appear in the curriculum.
There are disciplines that need to be given special attention, for example, the study of foreign languages. To introduce these disciplines, we specifically looked for native speaking teachers. I want our children to learn a dozen foreign languages. Both Arabic and Hebrew, I believe that this language must be known in our city. We have already prepared a special class where they will study both history and culture. The more children know languages, the easier it will be for them in the future to communicate and build a career.
- believes Sergey Kivalov. The pride of the school is also the sports complex, which includes an Olympic-format sports hall and two swimming pools. At school, children have the opportunity to engage in all kinds of sports: football, boxing, tennis, volleyball, and there is also a school cheerleader team. Pool activities are part of the compulsory school curriculum.
Our school is really unusual, it has a spiritual bias, there is a temple, and everything is equipped with the most modern technologies. The school curriculum is designed in such a way as to develop the child in a variety of ways, to help find some of his strengths, in which he can improve. In the future, we plan to develop sports clubs, attract sports sections, federations to hold competitions and Olympiads between schools.
-
shared by Deputy Director Sergey Kosyanenko.
At the same time, the compulsory construction of swimming pools at schools is provided for by the National Program of President Vladimir Zelensky "Big Construction", which is now only at the initial stage of implementation. But in schools where new trends and directions are followed, such pools should already be in place today, which was originally envisaged during the construction of the Odessa International Academic School.
Chess is another compulsory subject at school. Chess teacher Renat Khafizov believes that this game, which is officially recognized as a sport, reveals the child's potential, helps to develop certain psychological skills and teaches responsibility.
The main goal of playing chess is not to teach how to play a game, but simply to love the process of learning itself, which we are doing now. Plus, I also want to develop in children such a moment as psychological resistance to defeat, to remove certain fears. At first, it is scary to make some first move, some first action, that is, the guys do not know which piece to play and are afraid to do it. Gradually, the confidence to take the first step appears and is developed. Also, when making a move, you need to understand what the opponent's further actions will be, that is, to be able to think clearly and make certain decisions.
- says Renat Khafizov.
In addition, the school has many additional clubs and extracurricular activities, and each child can choose different hobbies to their liking. Parents have the opportunity to leave their children at school for the whole day, being sure that they will not wander around and will always be full. After all, the educational institution has its own school cafe, where they prepare homemade lunches, breakfasts and dinners.
I like this school, it is very spacious, there are kind teachers, lessons are interesting, especially with these smart boards.
- sixth grader Mikhail shares his impressions.
I like the way the lessons are taught, the way our teachers tell me, I especially like the chess lesson. I really like the school itself, the teachers are very friendly, very comfortable, and you feel at home.
- says sixth grader Dasha. All classes are small, which gives the teacher the opportunity to pay attention to each of his students. Children are happy to go to school, and they do not even have the desire to miss classes. First-graders especially like to go to school - here every day they discover something new for themselves.
Most of all I like the subject "I explore the world", there is a lot of interesting things - we can explore the body, different insects. We have interactive displays, everything is there, just like on a tablet, except for games. We draw there, teach different examples.
- # nbsp; shared the first grader Vera.
After a tour of the school, for most parents, the choice was obvious - there is no longer a better educational institution for their child in this city.
This is probably the best school in Odessa, and it doesn't even need to be advertised. You just drive by, and just "wow!", So we decided to come here. I like everything - the territory, the cleanliness, the school cafe, the swimming pool, and the attitude of the teachers, which is also very important.
The classrooms are equipped with the most modern technologies. There is no longer that rag with chalk, as we once studied. This is very important, and most importantly, the child likes it. We chose the kindergarten very carefully so as not to jump from one kindergarten to another, I think it will be the same with the school.
From the first minutes of classes, we saw from the children how much they like it. They remember the schedule, prepare things themselves and go with pleasure. And the lessons are so fun, interesting, competent and informative, and at the same time easy and natural. At the same time, there is respect for the teachers, plus the right preparation, the right schedule. I am with all my hands and all our family, and I highly recommend this school to parents, this is really the number one school, with which you just need to follow an example. Sergei Vasilyevich really needed to start this, because no one else would have invented such a school in Ukraine of this format. # Nbsp; - said Alena.
An international academic school may well compete with European schools. The coach of a professional football club, Artem Ryazantsev, had to study in schools in Germany and Holland, so he has something to compare with.
Today I am here because I am interested in the life of our city, I am interested in everything new, innovations, which is why we came. I know Sergei Vasilyevich well, I know that he always offers everything very good, new, high-quality, he always has everything at the highest level. I really like the atmosphere itself, the warmth that the director radiates, the teachers radiate, I think that children in this school will be very comfortable to study, and most importantly, they keep up with the times. # Nbsp; - noted Artem Ryazantsev.
Third-grader Evelina has something to compare with. In the new school, where she plans to move to the 4th grade, everything is much better than in the previous one.
We have a lot of children in our class, and when they all scream, it really annoys me. And here it is much better. Warm, beautiful, there is a pool. I would like to play tennis and learn foreign languages. And I really want to go to acting. The director said that such classes will be here soon. # Nbsp; - # nbsp; says Evelina.
Mom Anna also made the decision to transfer her child to a new school. Her daughter Marusya will study here in the 3rd grade. I learned about the school itself from friends who had already transferred their children here.
It was hard not to notice such a grandiose project in our city. We followed the construction, and, suddenly and so quickly, it appeared and began to function. As soon as we entered the territory, it was as if we were in Europe. The school immediately impresses with its size, its scale. # Nbsp; - said Anna.